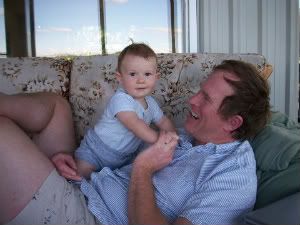 Emile had a visit with his physician upon our return from Quebec, and at 7 1/2 months, he was up 11 pounds and 11 inches. The eleven inches part is kind of scary when you think about it–1.5 inches a month!
He also has 3 teeth, nearly 4, and pre-verbalizes, we would like to believe, in both French and English. Just in the past week he's gone from amiable explorer of space in an eight-foot diameter to I-can-race-across-the-room-before-you-can-blink.
Emile's credo: Here comes trouble!
That's him five or six weeks back (2 pounds lighter, 3 inches shorter!)Speaking of milestones, undergraduates at Carnegie Mellon took notice of the expected passing of
minnesota review
with a
front-page article
in the Tartan.
While editor Jeffrey Williams is still taking queries for a new editor and institutional home, most watchers are guessing the respected journal will fold: the problem with the quality management at CMU–like the "quality management" of our government, implicating Clinton and Blair as much as Reagan-Bush-Thatcher-Bush–is its typicality, not its deviation from the norm.
When CMU cries poor ("our endowment is much smaller than Harvard's!") as an excuse for under-spending on undergraduates and tells Williams, "hey, we insist that you save $4500 by asking one grad student to do the work of two–or, if you can't stomach that, give up the ten grand we pay you in summer salary," it's exactly the same game we've seen in government. Austerity for the public sphere, but plenty of cash for the "entrepreneurs" gambling with our lives.
Williams is preparing what he expects to be the final issue, the Winter 2008/09 number, scheduled to appear in March. Based on the "My Credo" symposium published in three consecutive numbers of Kenyon Review, Williams has invited Jameson, Berube, Berlant, Graff, and many others to articulate their own credos. It'll be a very special issue indeed.
It's terrible of the engineering-friendly management at CMU to shut down a humanities institution over what they call Williams' failure to find independent funding for $4500 a year. But Williams has picked a great way to go out.
In Kenyon Review 12.4 (Autumn 1950)
1. Leslie A. Fiedler, Toward an Amateur Criticism
2. Herbert Read, The Critic as Man of Feeling
3. Richard Chase, Art, Nature, Politics
4. William Empson, The Verbal Analysis
In 13.1 (Winter 1951)
5. Cleanth Brooks, The Formalist Critics
6. Douglas Bush, The Humanist Critics
7. Northrop Frye, ³The Archetypes of Literature²
In 13.2 (Spring 1951)
8. Stephen Spender, On the Function of Criticism
9. Arthur Mizener, Not in Cold Blood
10. Austin Warren, The Teacher as Critic
Recently: